Wherefore art Romeo & Juliet in Manga?
By: Hannah Grace R. Dimapilis, BA Creative Writing
Disclaimer: The following images in this post are strictly used for educational purposes only. I do not own any of the images used in this post nor do I claim ownership over them.
Romeo & Juliet is one – if not the- most popular play in Shakespeare's rich repertoire of works. Romeo and Juliet's story of doomed romance has captured a wide audience and is represented in various forms, ranging from paintings and books to movies and songs. It is often a child's first exposure to Shakespeare from Taylor Swift's song of Love Story to a teenager's fascination of Luhrmann's Romeo + Juliet. In today's modern terms, Romeo and Juliet is trending or viral.
Romeo and Juliet has become so popular that it has entered the realm of another popular art form: manga. The billion-yen industry of anime and manga has captured millions of young and old audiences alike – first in Japan and now, in the rest of the world. An avid reader of romance, comedy, and school life manga will notice that a lot of these types of manga has a Romeo and Juliet school play during the festival. Another might notice that a lot of forbidden love stories have annotations to Romeo & Juliet.
Here are some examples:
1. Nisekoi by Komi Naoshi

[CHAPTER 49] The manga itself actually has a great semblance to Romeo and Juliet. The supposedly main couple, Chitoge and Ryuu, belong to rivaling gang families. The main difference is that these two really do hate each other until their heads engaged them despite their hate. It was some time in the story before any of them developed feelings. The main depiction of Romeo and Juliet is in the school play of Romeo and Juliet where Chitoge was chosen as Juliet although she refused at first. Ryuu was chosen as Romeo. After a series of events, Chitoge finally agrees to playing Juliet. A lot of twists and liberal creativity were added in the actual performance, making fun of the story of Romeo & Juliet. Basically, there were a lot of hindrances that prevented Romeo from reaching Juliet in the balcony scene, but Ryuu (Romeo) made it in the end (finally).
2. Love & Peace by Furukawa Shiori
[CHAPTER 6.1] This is a one-shot manga. It is a side story in the original series called, Five. It depicts a boyish girl and a girly boy chosen as Romeo & Juliet respectively in the school play. (Notice here how the Romeo & Juliet school play has already become a trope in mangas of the same genre.)
3. Kaichou wa Maid-sama by Fujiwara Hiro
[CHAPTER 32] Misaki and Usui won a contest for couples during the school festival, and they get to wear a Romeo and Juliet costume.
4. Wandering Son by Shimura Takako
[VOLUMES 5-6] This manga is well-known for its delicate approach on the topic of gender diversity and sexuality. Here, Romeo and Juliet is not played by the main couple. It was played by a homosexual boy and a girl whose sexual identity is not yet determined. Instead, the school play script was written by one of the main characters, who is also struggling with his sexual identity.  The play is ironic due to the fact that in the play, even when the actors are cross-dressed, Romeo and Juliet wish to be the opposite gender. It was a double cross-dress. Romeo and Juliet is used as a platform to discuss this delicate topic.
5. W Juliet by Emura

[CHAPTER 1] In this manga, W Juliet actually means "Two Juliets". The main couple comprises of a handsome (in the male sense) girl, Ito Miura, and a beautiful (in the female sense) boy, Makoto Amano. Ito and Makoto both dream of becoming actors some day. But Makoto cannot let anyone know of his true gender, so he has to constantly pose as a female while Ito is free to do as she wishes; hence the title, "Two Juliets". This As usual, the drama club of the school is playing Romeo and Juliet. The main couple of the manga will be played as Romeo and Juliet. Also, before the play, Ito dressed as Makoto to debunk a kidnapping scheme.
6. K-ON!! Season 2 by Kakifly

[VOLUME 4, CHAPTER 4] In a school play, Mio and Ritsu (both girls) were casted as Romeo and Juliet. It was an ironical because Mio, who plays Romeo, is actually girly while Ritsu, depicted as a rather boyish girl, gets to play Juliet. They are the bassist and drummer (respectively) in the K-ON!! band. They do not have any romantic relationship.
7. Ranma 1/2 by Rumiko Takahashi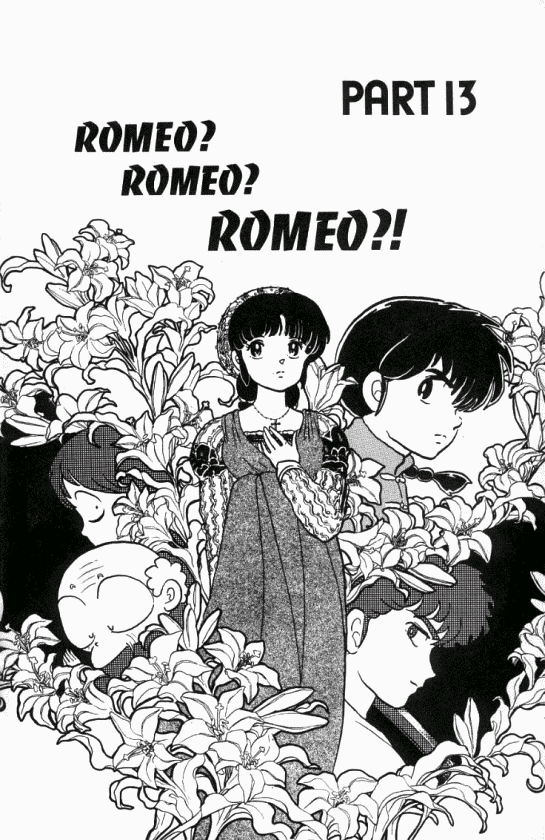 [CHAPTER 74-77] Ranma 1/2 has its own personal Romeo and Juliet Arc. Akane was chosen as Juliet for the school play. Three men fought to get the place of Romeo, but ultimately, it was Ranma, Akane's main pair, that got the role. The play became Sleeping Beauty in the long run, but nonetheless, Romeo and Juliet was the base story.
8. Sorairo Girlfriend by Rikachi

This is a yuri manga (girlxgirl) focusing on the new student, Juli, and a tomboy, Hiromi. The central plot device was the school play (again) where the couple played the roles of Romeo and Juliet.
9. Otome wa Boku ni Koisheteru by Araki Kanao
In this manga, the male protagonist, Mizuho Miyanokouji, enters an all-girl's school disguised as a female due to his grandfather's wishes. Later on, there was a school play where he was assigned as Romeo, coupled with Takako Itsukushima, the serious tsundere student council president and main love interest of the protagonist. In this sense, it was double cross-dress, as it was Mizuho cross-dressing as a girl cross-dressing Romeo, a boy.
10. The World God Only Knows by Tamiki Wakaki

[CHAPTER 236-237] In Chapter 236 "Love is a Smoke", Romeo and Juliet was actually used as a title of an acting competition rather than a school play featuring a couple. Romeo, in this case, is Kaori, a strong-willed "queen". Then there's Juliet, Tenri, a docile girl. What makes Romeo and Juliet differently portrayed in this manga is that rather than focusing on the love story, it was actually the feud that was used to make the plot move forward.
In Chapter 237 "Romeo's Cloudy Skies", Elsie tells the story of Romeo and Juliet to Keima. Keima, as a gamer, did not like the story because it was a "bad ending". Nonetheless, Elsie calls it a masterpiece.
Take note that these are simply a few of the mangas produced and are currently being produced. It can be concluded then that Shakespeare has already permeated the Japanese cultural spheres. Shakespeare has made its way from the streets of London to the pages of mangas that  Japanese youngsters are continuously exposed to each day. In turn, mangas are distributed worldwide, therefore exposing Shakespeare in manga form.
From paintings to books to movies and to fan-arts, Shakespeare's transmediality has permeated all spheres of art forms. The most interesting part is that it is not limited to the English sector only. Now, it is a common theme in a Japanese comic book, in the other side of the world.
References:
1. Naoshi, Komi. "Nisekoi Manga." MangaReader.net. 2012. Web. 31 Oct. 2015.
2. Furukawa, Shiori. "Five." Manga Fox. 2012. Web. 31 Oct. 2015.
3. Fujiwara, Hiro. "Kaichou Wa Maid-sama." Manga Fox. 2009. Web. 31 Oct. 2015.
4. Shimura, Takako. "Hourou Musuko." Manga Fox. 2005. Web. 31 Oct. 2015.
5. "W Juliet." Manga Fox. 1997. Web. 31 Oct. 2015.
6. "Romeo and Juliet!" K-ON! Wiki. 2010. Web. 31 Oct. 2015.
7. "Romeo? Romeo? Romeo?!" Ranma Wiki. 1989. Web. 31 Oct. 2015.
"Wherefore Art Thou, Romeo?" Ranma Wiki. 1989. Web. 31 Oct. 2015.
8. "Manga Recommendations: Sorairo Girlfriend." Kalboor. Web. 31 Oct. 2015.
9. Araki, Kanao. "Otome Wa Boku Ni Koishiteru." Manga Here. 2012. Web. 31 Oct. 2015.
10. "Love Is a Smoke." The World God Only Knows Wiki. 2013. Web. 31 Oct. 2015.
"Romeo's Cloudy Skies." The World God Only Knows Wiki. Web. 29 Oct. 2015.
Wakaki, Tamaki. "The World God Only Knows." MangaReader.net. 2013. Web. 31 Oct. 2015.